For many reasons, I had to get my cat castrated, or "neutered," as they call it. It was required by law since I got him at an animal shelter, it will prevent him from breeding freely with multiple female strays in the neighborhood, and it has other practical benefits for me as well, most importantly he won't start spraying urine all over the house. I had mixed feelings about it going in, knowing that "neutering" was just PC for "cutting his nuts off", to put it in terms we all understand.
I named him Trouble for a reason. He is a wonderfully mischievous kitty, and his antics have earned him the name "Chaos" by some of my neighbors. If he wasn't out causing a ruckus somewhere, I would start to worry that something was wrong. I didn't want the operation to tame him so much as to just meet the legal requirements, prevent him from impregnating multiple female strays, and keep my furniture urine-free. What I didn't want was for him to become an androgynous, boring, depressed shell of a cat.
What's done is done, and he is now essentially the feline counterpart of the 18th century castrati – boys castrated before their voices started to lower to preserve their "angelic" high register for singing. I'll never get to hear his mature baritone "meow" in all its glory ;). Apparently I'll also miss getting to see him with face shields, but I don't think I'll mind that too much.
I know if I lived on a farm somewhere in the country, I wouldn't have gotten him neutered. There's no reason to do something so extreme just to prevent some errant urine. Also, I've been pretty successful training him not to do things like scratch my couch using my "water bottle technique", which involves blasting him with a strong gust of H20 when he's in the middle of an undesirable behavior. I imagine it could work for spraying urine as well. Also, he's outdoors for 75-90% of the day, so I'm sure he'd do most of his spraying outside.
The procedure itself is quite simple, as shown in a slide show on this page. They anesthetize the cat, make a small incision, cut the testicles off, and tie the cords together. Amazingly, they don't do anything to close the incision afterwards. The vet tech told me, "they press it together and it sticks." Yeah right. It looks like an open wound, although it's not bleeding or inflamed, so he should be OK.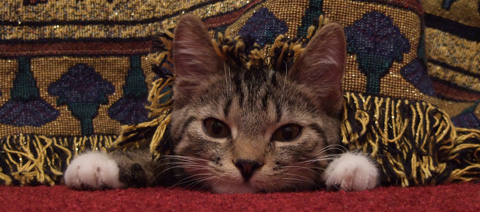 What have I noticed so far? He's been a bit less vocal, less rambunctious, and less eager to be outside constantly. When he has gone outside he's returned in just a few hours. This is a change from what he usually does, which is to stay out all day and all night until I go looking for him in a back alley around my house. It has been colder outside so I'll count that as a confounding factor to my observations. A lot of people would say these are desirable behaviors, but I actually hope he returns to his old self. Cats that never meow, express nothing, and stay inside all day are sad and boring as hell. It's too early to say if he is really changed, if he's just recovering from his trauma, or if I'm over-analyzing.
He still plays with as much energy and animal instinct as before, making his little rattling plastic balls pay dearly when they cross his path. I haven't heard any cats screaming and meowing outside yet like I used to, so I suspect his sex drive has decreased, as expected. Overall, I wouldn't say there's been a dramatic change in his behavior, thankfully. And he's purring as much as ever, so he must be content. I still feel terrible about taking his manhood away from him, even if it was necessary, and I hope he doesn't hold an eternal grudge against me for it.