I just made this recipe out of my Indian cookbook, 5 Spices, 50 Dishes
. This book has already paid for itself with the delicious food I'm able to make, saving me from buying Indian take-out every night. A couple key additions to my kitchen's armementarium have given me free reign over all of Indian cuisine: a cheap but effective wurly blade
dedicated for spice grinding and a Japanese grater for fresh garlic and ginger. These porcelain fish graters
are incredibly cute and work amazingly well.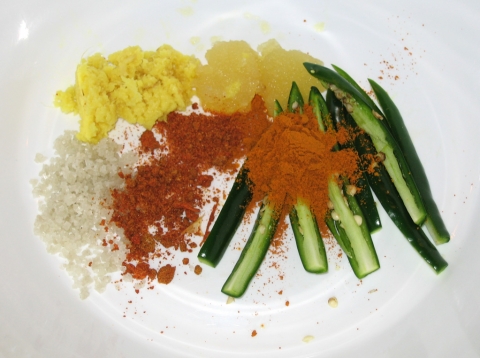 You can find this whole recipe on Google Books. You make the marinade, which takes 5 to 10 minutes, and marinate the lamb overnight. The next day, while making the "burnt onions", almonds, and raisins, you let the lamb sit out at room temperature for an hour before roasting. Then, you just add some final ingredients to the marinated lamb and into the oven it goes.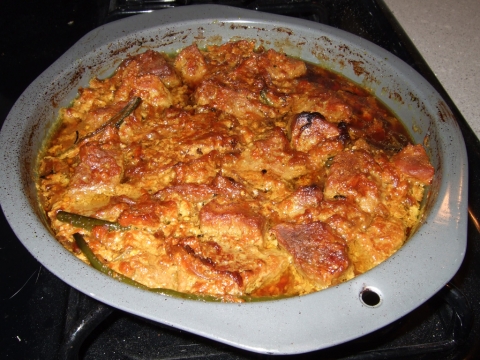 Two hours later, you have hearty, flavorful lamb that falls apart with the touch of a fork and melts all over your tastebuds. The onions, almonds, and raisins are little flavor bursts that perfectly complement the spicy lamb and sauce. Hotness can of course be adjusted by cutting back on the cayenne or serrano chiles. I paired the dish with some plain basmati rice, and it was probably the best meal I've made in my new kitchen so far. I'd like to try it with chapati, but I don't have a rolling pin yet.